Fishing with small plastic baits is one of the most interesting and versatile forms of fishing that an angler can enjoy, the use of light equipment, fine braids and small plastic baits all adds to the enjoyment! I use a 10ft heavy spinning rod with a 5000 style fixed spool reel.
The reel is loaded with 0.14mm Braid, when your fishing with shads it's important to use quality braid! I also use a 3ft leader of about 30 pound! This is mainly used for abrasion and protect the braid but it's also provides a slight amount of stregh  in the line, which I think increase hook up rates!
The style of rod I use is a design from New Zealand, which is perfect for casting shad's from 30g – 90g. It has a long soft  butt, which suits my style of casting!
It's important that the rod is around 10ft long! By having a Rod at this length it gives you the ability to move the shad at such an angle so it moves from the bottom to 1m above the bottom!!
By doing this you are fishing much more of the water then with static bait! The action of the rod should be stiff in the mid section and has a fast tip, which recovers quickly this helps to identify bites quicker!
If im using Lighter shads between 18g – 50g I use an anyfishanywere lure rod, these rods are fantastic for hard fighting Pollock and are so sensitive that when im using a sidewinder in the midwater for cod that are feeding on the herring you can actually feel the tail of sidewinder working thorugh the rod tip!! (a fantastic combernation the AFAW lure mk1 and a 4000 fireblood)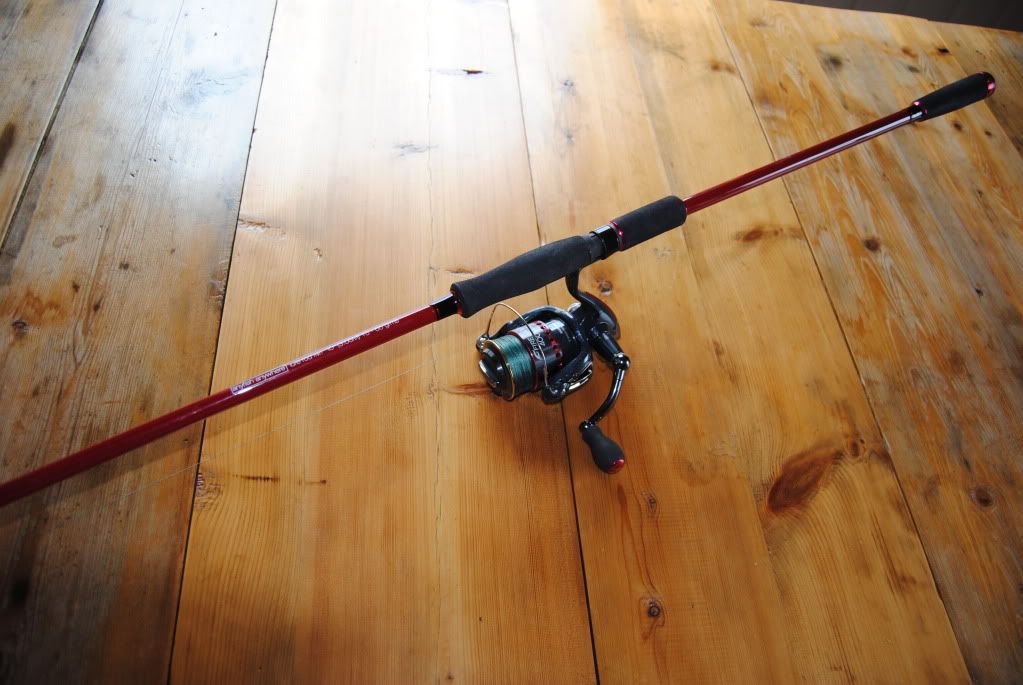 Notice also in this picture the strong link that is used and variation of shad sizes and colours! The heads that I use are called VMC barbarians, I particularly like this style of hook  because it bends out of snags easily but remains strong when you have a fish on!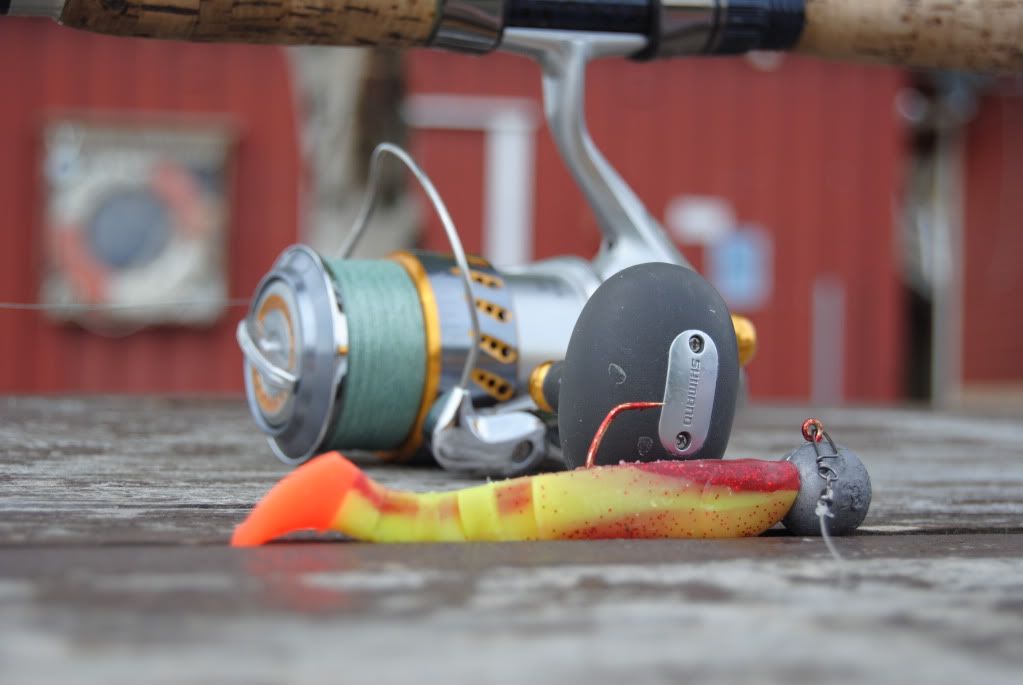 The venues, which I shad fish and have the most success need to have current! The current moves the shad so does the force of the rod tip lifting it from the bottom!! These forces enable the shad to work through much more water, therefore finding more fish!  This technique is better explained by watching this video!!
http://www.youtube.com/watch?v=B8sabYFbRlg
More important than the technique you use is the style of shad! I use a shad called a Kopyto relax, first develop by a polish guy then the Americans bought it but now it's  used in Europe for pike and zander fishing!
The shad has a fantastic action with a semi cut out tail with a large paddle end making the action very aggressive! You can feel the action of the shad working through the rod tip!! In this photo you can notice the position of the rod at the end of the down stroke, this is the prime time when I expect a cod to take by lowering the rod to this angle you are ready to strike and set the hook the fish! 90% of the fish take on the down stroke so it's important that you take control of the shad and you are  lowering  the shad with the rod tip By doing this you can leave the shad hanging in the water for longer therefore increasing your chances of a take! Shad fishing is much more about feeling the take!!
I don't think this action is so important during the day, when they have the advantage of sight but during darkness it is very important.
I started shad fishing in total darkness a couple of years ago testing the theory that I have, at one point I was stood in straumen in my chest waders and coalfish were feeding from them, no headlight on and I was catching cod at my feet on shads!
One thing I did notice on a night session was that if I didn't have the Kopyto shads on I didn't get half the takes and I do believe it is because the vibration of the large paddle tail!

Colour was not important during the night session but during daylight is a different matter; always take a good selection of colours! A good rule to stick to is light colour for bright day and dark colours for dull days!! I always prefer red and yellow for cod!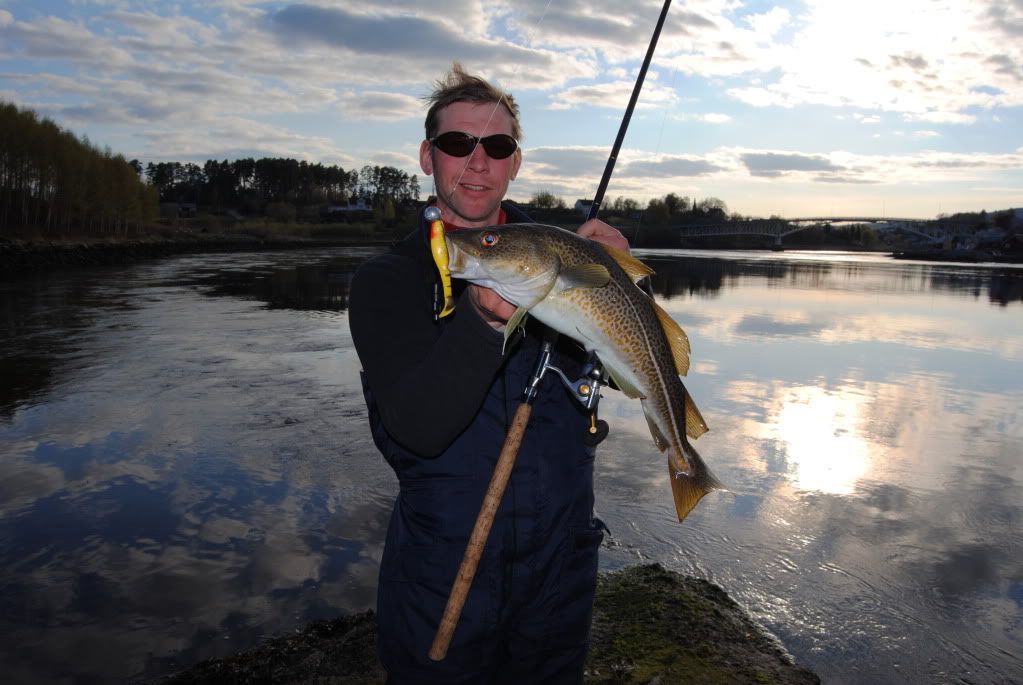 Another interesting thing about this style of fishing is what you learn from it, for example If you compare it to bait fishing I used to always think that if you have the optimum bait for the time of year ,you are fishing or a certain venue and the fish are there you will catch them!!
This is not the case thou, on many occasions last year I had put guests in straumen bait fishing and they were coming back with poor results, this got me thinking so I took my shad fishing gear down while they were bait fishing and for every cod they caught I had 5!
I didn't do this to show how our fishing skills varied because they are all competent anglers but it does go to show that bait is not always the best method! My theory behind this is its much like catching the salmon, there not actually feeding but they are either inquisitive or they just cannot resist and imitation fish flashed in front of them!!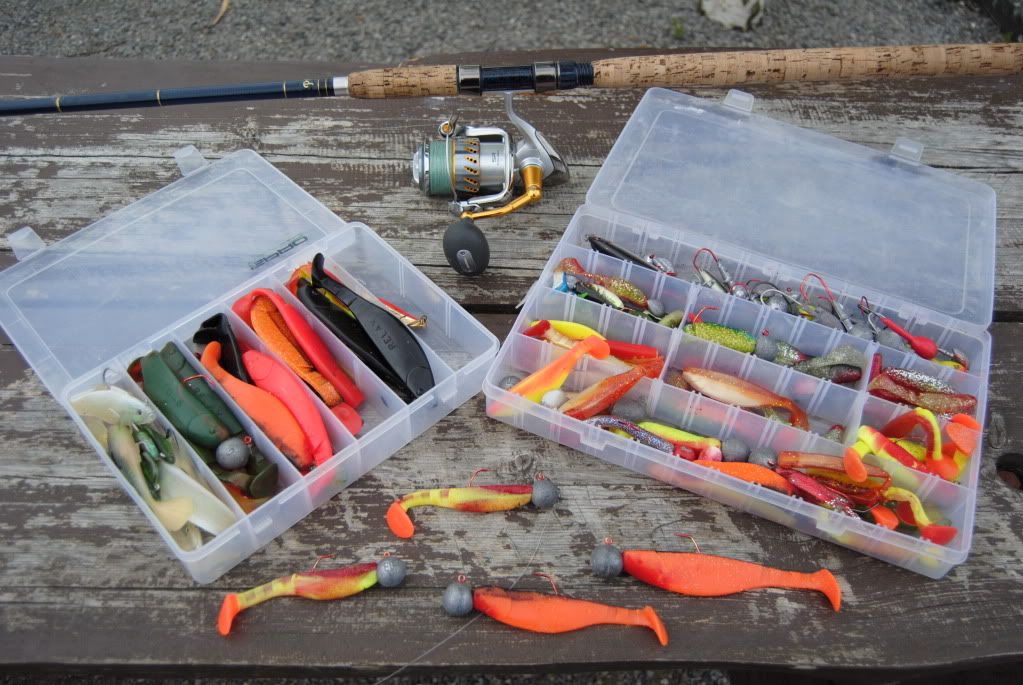 I'm not sure what the answer is but what I do know is that when I get my gear put in the van and get driving down to straumen I start to get excited, I drive by the fuel station and see the flags lying flat, perfect no wind, then I drive over the bridge and glance over to my mark for a second but in that second I can see the current starting to weaken to a perfect shad fishing pace!
Walking the 500m down to the mark with my rod and small bag of shads is fantastic you almost feel like you're going fly fishing on a small river but you're not your fishing for the mighty cod and from this mark they have been taken to almost 50 pound I've had them to 27 pound on a spinning rod but that's not what it's about. You just have to try it!
Phil Dales Norway Gallery
[nggallery id=2]

Thanks for reading, if you have any questions please PM me or send me an email at
Phill.dale@hotmail.co.uk
www.skarnsundet.com
Cheers
Phill