The Essex Boys take on Bessaker.
Well what a week it has been for the Essex boys, Ben, matt and Ted arrived at Bessaker on a lovely sunny spring afternoon. I had met them at Røra, which is 1 hours drive from Trondheim to join them for the next part of the journey to Bessaker. previous to me meeting them I had been busy making sea maps and directions to the varied marks that Bessaker has to offer.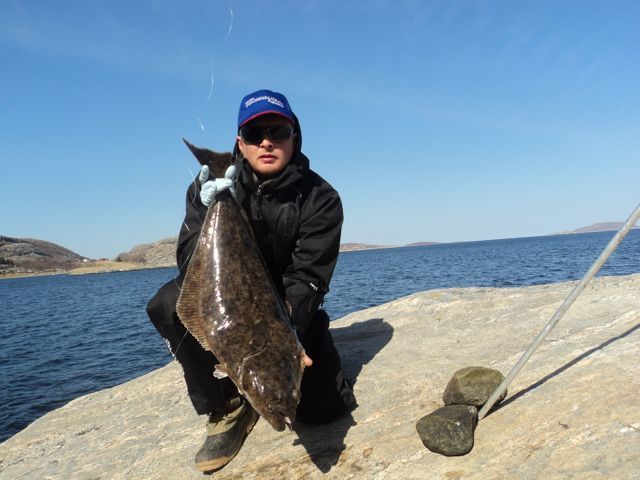 these maps are very easy to use and put the guests in exactly that wright place.
I stayed up with them for the first 2 days to make sure the lads were all ok and to put them on to some fish. I we certainly found some fish.
First day we fished a mark which is only 500m from the apartments and is now named as Teds Plaice. You can see from the pic below why this is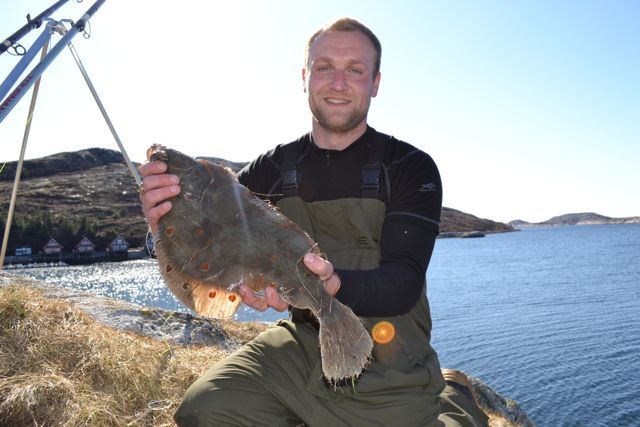 This mark is 35 – 40m deep on to a sandy bottom. I have caught halibut from here in the past. on the session we caught countless fish. With Plaice to 4 pound.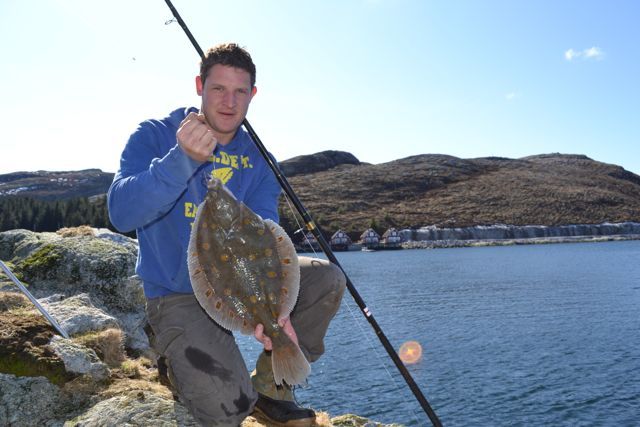 Long rough dab to 1 pound 12 oz which is a fantastic species and specimen size.


Double shots of dabs.


Many cods to 8 pound,wolf fish and some nice sized coal fish.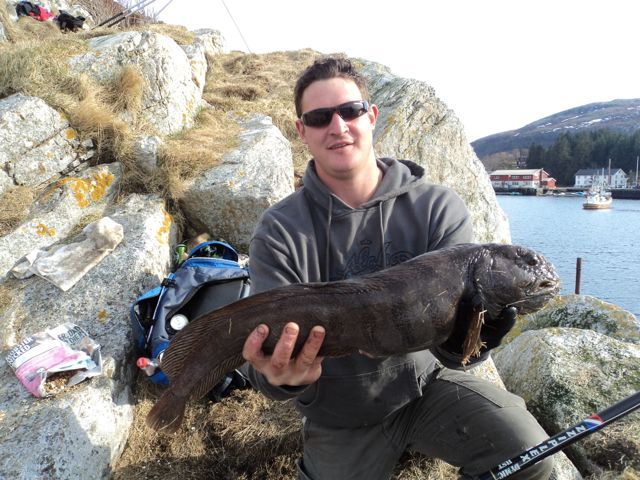 On the night s the lads used to fish from the harbor just 5m away from the apartment door or pop in to the on site pub for a relaxing pint.
Day two
After I had showed the lads another 4 marks to fish for the rest of the holiday I was away back to Skarnsundet leaving them with a lovely weather and all the info that they would need. I also arranged for them to be taken on to an Island which is just in front of the apartments. Virgin territory, never seen a shore angler before but the plan was to fish that on the third day.
The lads fished the island, well it used to be an island one year ago but now they have built a rod over that has given us three new fantastic marks. The mark the lads fished is from a large rock platform casting into 40m of water on to a sandy bottom.
From this mark they caught, Plaice, ling, flounder, dabs, pollock and nice sized cod.
This mark has a lot of potential and I'm certain it will not be long before a large halibut is taken from here.
Day three and the lads were picked up from there apartments and taken over to the island. I was in regular contact with the lads to see how they were getting os as I was sure it was going to produce. Its a very easy mark to fish and again casting on to sand.
Matt was into the first fish with a lovely halibut on the turn of the tide.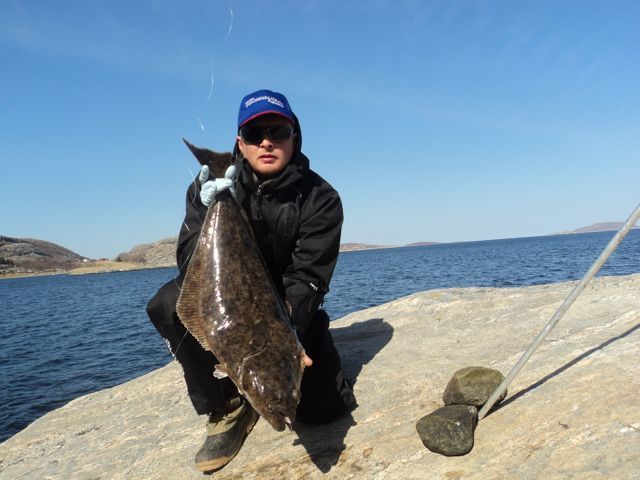 Ted also got stuck into some nice cod.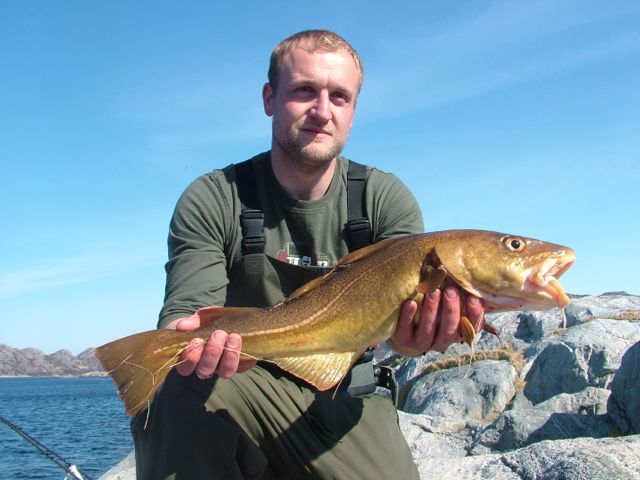 The halibut cods were certainly on Matts side as his ratchet went screaming of and hooked into the second halibut of the day.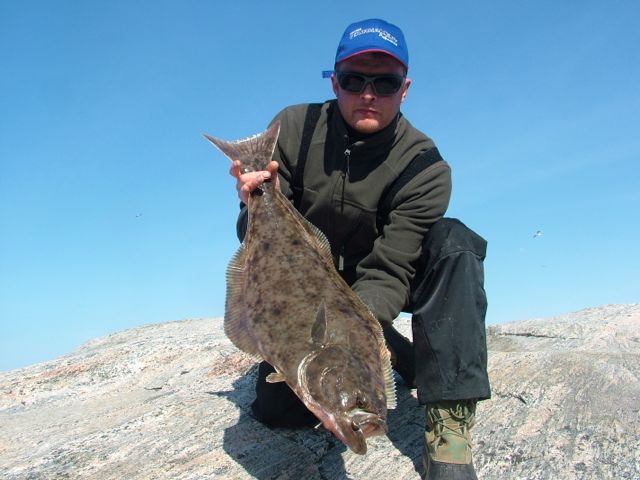 Congratulations mate thats fantastic fishing.
Day four
The trio of Essex boys had rackhet up and impressive list of 13 different species. So they decided to try a favorite mark of mine were I had taken many halibut from up to 35 pound.
Again, Ted was fishing like a trawler getting in on the halibut action.


cod to 10 pound


Coal fish to 10 pound


There was also many smaller cod to 6 pound from this mark.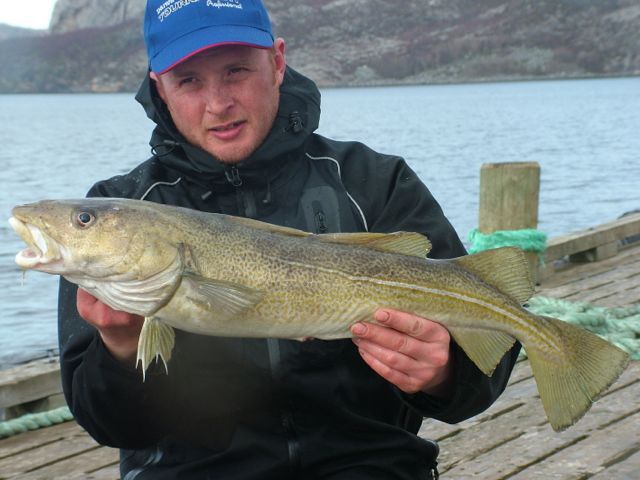 Its certainly one of the easiest most productive marks that I have ever fished from.
While I was with the lads I got to make a short video so have a look at the Essex boys in action at www.nordicsportfishing.com
There are many other pics of the lads on my site.
This is the species list the lads caught in 5 days fishing.
Dab
Plaice
Haddock
Long rough Dab
Gurnard
Flounder
Cod
Coalfish
Wolfish
Pouting
Ling
Pollock
Pourcod
Thanks for a fantastic week lads, looking forward to next time, Bessaker really is special place and I cant wait to get shore fishing during the summer here.
Please contact me for any info on shore and boat holiday at Skarnsundet and Bessaker.
Thanks for reading
Cheers
Phill